master plan for aging - engagement activities
Bakersfield Legislative Roundtable
On September 20, 2019, Secretary Ghaly and Senator Hurtado (D-Sanger) convened a roundtable discussion with local business, labor and community leaders on the topics of older adult employment and workforce issues at the Greater Bakersfield Chamber of Commerce.
The roundtable kicked off Employ Older Workers Week, which occurs annually during the last week of September. The week celebrates the skills and contributions that older workers bring to the workforce, and encourages employers to hire these individuals.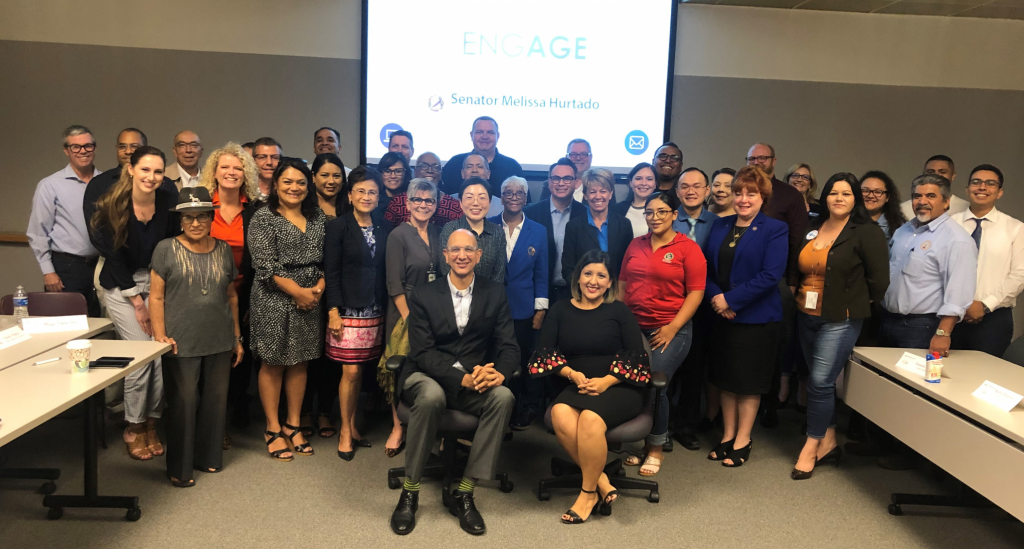 Secretary Ghaly and Senator Hurtado with roundtable participants
Stakeholder Advisory Committee Meeting #1
The first convening of the Stakeholder Advisory Committee meeting occurred on September 17, 2019 in Sacramento. See the meeting summary for details.
California Department of Aging Acting Director, Kim McCoy Wade, presented the following mission, vision and goals of the Master Plan for Aging to Committee members for their consideration and feedback:
Vision: An age-friendly California for the increasing numbers and diversity of older adults and families.
Mission: Person-Centered, Data-Driven 10 Year Master Plan for Aging by October 2020.
As Californians, as we live longer and healthier lives:

Goal 1: We all want to continue living in our communities and have the help we need to do so.
Goal 2: We all want to live in and be engaged in age-friendly communities.
Goal 3: We all want to maintain our health and well-being as we age.
Goal 4: We all want economic security and to live in safe environments throughout our lives.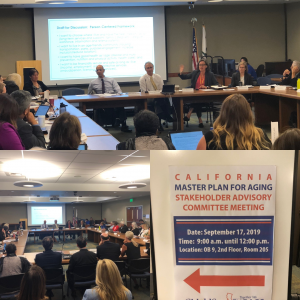 Top, left to right: Irena Asmundson, Secretary Ghaly, Stephen Somers, Kim McCoy Wade, Anastasia Dotson
California Master Plan for Aging Forum
On September 16, 2019, the SCAN Foundation hosted a forum that brought together an array of stakeholders, including members of the legislature, local government, non-profit, philanthropy, academia, and leadership from the California Health and Human Services Agency and California Department of Aging to kick off the Together We ENGAGE campaign, and begin a dialogue on how best to leverage people and partnerships to build a person-centered, age-friendly California.
Secretary Ghaly articulated his vision that the Master Plan for Aging be planned well, planned thoughtfully and planned with dignity because it will impact all generations and communities in California. Click below to hear the Secretary's comments in their entirety.