Center for Data Insights & Innovation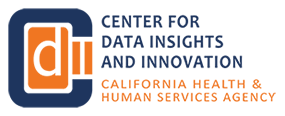 The Center for Data Insights and Innovation was established to advance CalHHS data initiatives and help turn data into insights, knowledge, and action.
Programs from the following CalHHS offices became part of CDII in 2021:
What's New!
     Data Expo
Data Journey
CalHHS' data journey has passed many milestones as we advance our data efforts. Future success is dependent on effectively gathering, managing, and analyzing data. CDII is here to help meet those goals of increased data sharing in secure environments. Our journey continues.
2021 Center for Data Insights and Innovation established
2020 RDH Pilot Expanded to become the Agency Data Exchange
2020 Research Data Hub Pilot launched
2020 CalHHS Program Dashboard updated
2019 CalHHS Agency-wide Data Literacy survey released
2018 Record Reconciliation Proof of Concept launched
2017 Data Sharing Framework developed
2016 Data De-Identification Guidelines established
2016 CalHHS Data Playbook developed
2015 Open Data Handbook published
2014 Open Data Portal launched
Our Strategy
CDII will help drive insight, accessibility, sharing, and transformation for data across CalHHS and California
Our Solution
Through inter-departmental collaboration, CDII is developing a data driven ecosystem of products and services designed to improve data sharing and analytics processes for Agency
Stay connected
Contact us at CDII@chhs.ca.gov
Data Exchange Framework
The Data Exchange Framework (DxF) is an opportunity to create equitable and affordable health information exchange, so that patients, providers, and other healthcare entities can access the health information they need, wherever they are and whenever they need it.
The DxF DSA Signing Portal is now open for providers and healthcare entities to take the first step for better health information exchange. The DSA is a signed agreement between hospitals, physician organizations and medical groups, skilled nursing facilities, health plans and disability insurers, clinical laboratories, and acute psychiatric hospitals to share patient information safely.
California Health and Safety code requires most providers and healthcare entities to sign the DSA by January 31, 2023.
Take the first step today. Visit the CalHHS Data Sharing Agreement Signing Portal to sign the DSA. 
CalHHS Open Data Portal
CalHHS launched its Open Data initiative to increase public access to one of the State's most valuable assets—non-confidential health and human services data.
Data News on Twitter
Follow @CHHSDataNews on Twitter for updates on new datasets.
CalHHS Program Dashboard
The Dashboard contains participation data related to seven California Health & Human Services agency programs.
Open Data Catalog
This is a catalog of all resources currently available on the Open Data Portal.
CalHHS Data Playbook

The Playbook is a mechanism to disseminate best practices and lessons learned across the Agency, consisting of resources and toolkits to help staff navigate data projects and discuss data-related topics in nontechnical language.
Data De-Identification Guidelines
The CalHHS Data De-Identification Guidelines describe a procedure to be used by Departments and offices in the Agency to assess data for public release.
Data sharing at CalHHS is governed by the CalHHS data exchange agreement, which includes one master agreement and subordinate "Business Use Case Proposals" containing the specific business case to document each data exchange under the master agreement.
The goal of CalHHS Record Reconciliation is to link and organize administrative, client-level records to improve statistical analysis of CalHHS clients.