Competitive Integrated Employment (CIE) Toolkit
The CIE Toolkit is designed to provide tools and resources on CIE services and supports available to individuals with intellectual disabilities and developmental disabilities (ID/DD) and their families.
CIE Webinar – Pathways to "Real Work for Real Pay in the Real World"
The CIE Webinar provides information to individuals with ID/DD and their families on the following:
The benefits of CIE to the individual, family, community and business.
Services and support available to help an individual get ready for CIE.
SSI and Medi-Cal.
Transportation and safety.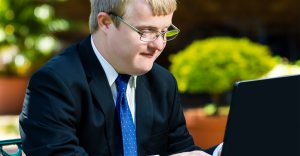 CIE Webinar PowerPoint Presentation
CIE Webinar PowerPoint Presentation – Spanish
How can a Person Get Ready for CIE?
Learn About Services and Supports to Get Ready for CIE
SSI Benefits and Medi-Cal
Learn How CIE Changes a Person's SSI Income and Their Medi-Cal
Safety and Transportation
Learn About Community and Transportation Safety
CIE Webinar Fact Sheet
CIE Webinar Fact Sheet – Spanish
CIE Webinar Glossary of Terms
CIE Webinar Glossary of Terms – Spanish
CIE Webinar Questions and Answers
CIE Webinar Questions and Answers – Spanish
Benefits Planning
CIE Services and Supports
Limited Examination Appointment Program (LEAP) – LEAP is a way for a person with a disability to get a state job. Most state jobs require a person to take a written test. LEAP gives a person with a disability a different way to take a test to get a state job. Instead of having to do a written test a person with a disability shows what they can do by doing the job. This is called the Job Examination Period.
America's Job Center of California (AJCC) – AJCC is another place to learn job skills and find CIE. AJCCs offer career planning, internships, job skills training, job search support, and more. To find an AJCC near your go to https://edd.ca.gov/Office_Locator/ for more information.
California Career Network Resources (CalCRN) – CalCRN provides career development information and resources to support development of the critical career self-management skills necessary for success in today's world of work.
Department of Rehabilitation (DOR) Student Services – DOR Student Services are activities that support a student with a disability in exploring and preparing for the world of work
Supported Employment Program -The Supported Employment Program provides activities and services, including ongoing support services, needed to support and maintain an individual with a most significant disability, including youth with most significant disabilities, in an integrated employment setting for the term of employment.
Questions may be submitted to CaliforniaCIE@dor.ca.gov